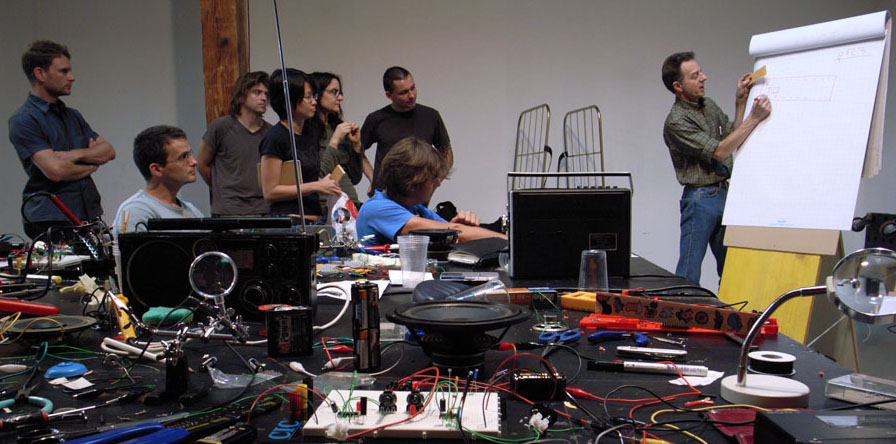 Since 2004 I've presented dozens of hands-on workshops in Hardware Hacking all over the world. Assuming no technical background whatsoever, these workshops guide the participants through a series of sound-producing electronic construction projects, from making simple contact microphones, through "bending" toys, to making oscillators and other circuits from scratch. The curriculum is drawn from my book, Handmade Electronic Music -- The Art of Hardware Hacking. We usually end with a public performance/installation by the participants.
The workshop can be as short as an hour, or run as long as five 8-hour days. The topics covered include:
Alternate microphones (contact mikes, coil pickups, using speakers and headphone as microphones, tape heads, binaural mikes, etc.)
Homemade transducers for sending sound through objects for physical filtering (cheap "Rainforest".)
"Victorian synthesizer" (making an oscillator with just a speaker and a battery.)
"Laying of hands" on a radio circuit board (the poor man's Cracklebox.)
"Circuit Bending" (new noises from old toys.)
Circuits from scratch: oscillators, tremolo/gate/panner, mixers. preamp/distortion, pitch trackers, weird analog signal processing, sequencers.
I bring most of the electronic parts needed for the projects. In addition, individual participants and the venue are expected to provide some materials and facilities (click here to see the list.)
Here is a video produced by Spiegel Online about the hacking workshop I did for MaerzMusik in Berlin in March 2012.
Click here to view a video of the public presentation at the end of my workshop at the École Supérieure d'Art d'Aix-en-Provence, France, fall 2007.
Here is a nice posting about a hacking workshop I did in Florence in 2012. Some good photos and a video snip.
Here are two blogs from my workshop at STEIM in Amsterdam in April, 2009:

Audrey Samson
Chad Jones
Contact me if you are interested in hosting such a workshop: ncollins@saic.edu.